eGramSwaraj application has been monumental in bringing together a tech-based, integrated system of information gathering, micro level planning, work-based accounting for last tier of local self-government called Panchayats. The application has a user base of more than 2.7 Lakh PRIs; spread across 28 States and 6 UTs. The application has been ever evolving because of the continuous feedback from various critical stakeholders such as State officials, end users at Gram Panchayat level, Ministry of Panchayati Raj and National Informatics Centre.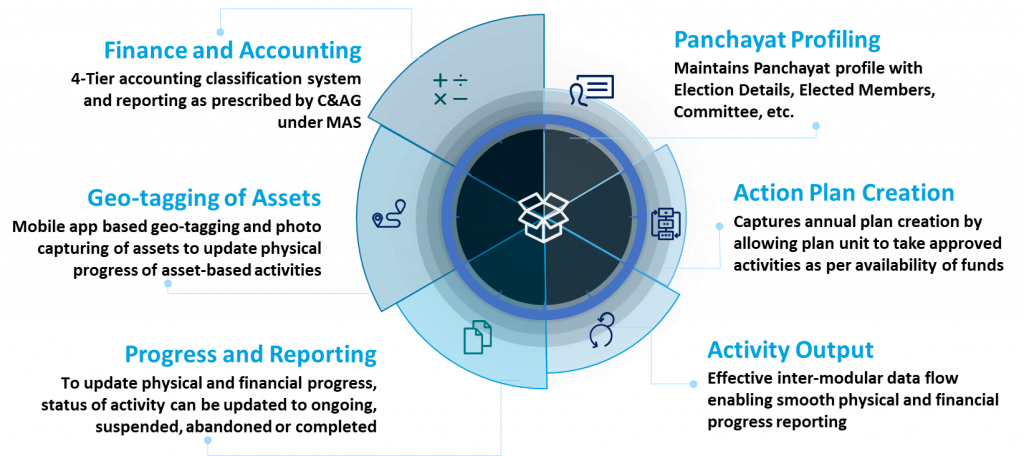 Objective
Based on the inputs received from various stakeholders, Ministry of Panchayati Raj (MoPR) is of the opinion that a technical and functional refresh of the eGramSwaraj application is imperative. The intended objective is to enhance the application with latest technical advancements and EmergingTech integrations as per suitability. On the functional front, design of new Key Performance Indicators (KPIs) and Process Reengineering shall be focused upon. To gain a better understanding of Industry and Sector level best practices, a symposium of experts from across the nation shall be organized.
Click here to open eGramswaraj Dashboard
eGramSwaraj Architecture
eGramSwaraj is designed with the following 3 key target user groups in consideration:
Local Bodies: Rural and Urban local bodies, together, forms up the primary end users of this application. These users, working at the field level, are primary custodians of numerous critical processes such as formulation of Gram Panchayat Development Plan (GPDP), Works progress monitoring, Vendor and employee management, and Financial Management.
Line Departments: GPDP cuts across 29 subjects and 18 Ministries of Government of India. These Line Departments are responsible for driving various social welfare programs and schemes. Data driven Planning and Monitoring, naturally, forms the foundation of successful, last-mile, service delivery, especially for robust financial management.
Citizens: While the Gram Panchayat is operated by the elected and selected representatives of the citizens and administration respectively, it is the right and more importantly, the responsibility, of each and every citizen to be vigilant and aware of the status of progress and development taking place in their region. Equipped with ratified and readily available data, the general population plays a significant role in inclusive decision-making process.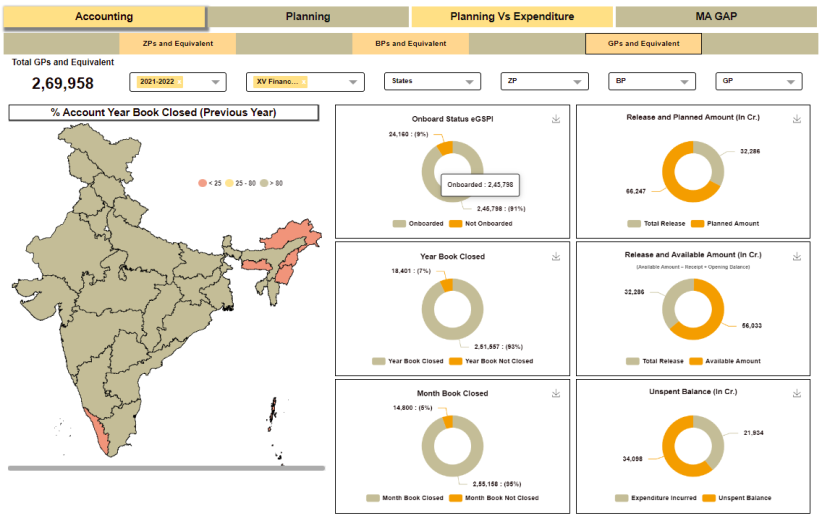 Considering the above high-level user personas, the following 6 Modules form the backbone of eGramSwaraj application:
Panchayat Profile: This module consists of General profile of the Gram Panchayat, elected member details (Sarpanch – President to Ward members), Committee member details and employee details. This information helps the citizens and visitors of the website to reach the Gram Panchayat's Elected Representatives and employees easily.
Planning: In the Gram Sabha meeting, a plan of works to be undertaken within a specific period of time is proposed. The Approved works in the Gram Sabha are entered as an activity on the eGramSwaraj website by the PRIs. Administrative sanction is provided by District Administration for only those works entered in eGramSwaraj with respect to Budget allocation.
The Ministry has also developed a Spatial Planning Application,Gram Manchitra.The application facilitates the creation of various planning scenarios for facility planning and management, integrated with the priority and needs of the people, ensuring basic facilities, avenues for livelihood, and productive use of resources.It has added objectivity to the planning process by acquiring relevant data and performing planning at the panchayat level with the use of geographic data for sustainable development. It enables the user to take a decision based on geographical data.Drone images, large scale & high-resolution Villages maps can serve for feature extraction of all visible features such as buildings, roads, land parcels, water tanks, open plots, etc. and for preparation of base map layers in Gram Manchitra Application.
Progress Reporting:This module facilitates reporting of physical and financial progress of the activities included in the Action Plan(s), utilizing various Central/ State specific schemes and/ or other sources of funds. The progress is reflected in the Technical and Administrative approval sections. Technical Approvals keep track of approved cost of the work. Administrative approvals keep track of Implementing and executing agency names along with the amount sanctioned for a work.
Accounting:For exercising proper control and securing better accountability, the formats for the preparation of budget & accounts and database on finances of PRIs; MoPR along with C&AG has introduced Model Accounting System (MAS) for Panchayats. Users can select and map theavailable Central and State schemes, add vendor and employee details, and perform voucher-based, Digital Signature verified transactions. Based on the transaction records and book closings, cash book and bank account reconciliation is performed.
Asset Directory: This module allows updating of the status of an asset as and when it changes. The system captures the status details of the asset including Status Updated To (abandoned/ active/ demolished/ damaged natural causes/ not due to in use (seasonal)/ stolen), Reason for Status Updating, Date on which the Asset Status is Updated, etc.
User Management: This module enables the system administrators at various levels in management of user accountsand their extent of access to variousmodules and functionalities of the system, along with user credential management for privileged access.
Founded on these modules and their respective functionalities, eGramSwaraj enables seamless, end-to-end digitization of the works planning and monitoring lifecycle for the Gram Panchayats. From development plan creation to geo-tagged physical progress monitoring and finally to financial progress tracking and PFMS linked online disbursement of funds, eGramSwaraj serves as a one-stop solution to all the critical stakeholders of the Gram Panchayat development ecosystem.
DO Letters
Proceedings
Miscellaneous